In mid 2015, I was saying adios to my 9-5.
(My work hours were actually from 6am-3pm, but you get the point).
I was taking the proverbial plunge.
I was leaving my safe, structured job-- complete with generous employee discount, cushy benefits, and consistent bi-weekly paychecks.
I was entering the world of the unknown.
A world also known as The Freelance Life.
This was it-- I was finally my own boss.
I could set my own hours.
Work all day from the sofa in my yoga pants. (versus actually doing yoga in them)
And make cute coffee dates with other freelancers to plan world domination.
INSERT EVIL LAUGH HERE>>>
But soon after making all of those fluffy, pink, cotton candy plans-- the fairy dust settled + I was left standing alone in those yoga pants--with little more than my laptop.
Silly little wantrepreneur.
I quickly found myself in a state of constant panic + worry.

Worried that I wouldn't find enough clients.
Worried that once I'd found a client, they would leave.
Worried that I wouldn't be able to find a new client to replace the client who bailed.
Worried that I'd soon be living in a cardboard box. ("the worry" really escalated quickly).
I was even worried that at some point I'd have too many clients + I'd have to say goodbye to my social life.
Yep, I was a real joy for my husband to be around.
But, every once in awhile-- my biggest fears would come true-- and a client would leave.
Cue the wet, snot-filled ugly cry.

Cue the weekly proclamation that I was going back to a "real job".
Cue the opening of my laptop + an emotional job search on Monster.com
Cue the slamming of my laptop.
Uh-uh. No ma'am.
There was no way in hell that I was going back to a REAL JOB.
But constantly living in a state of fear was simply no way to live.

And even when business was good, I had no way to scale my income any further.
I was stuck trading hours for dollars…
This was exactly like my "real job" (minus the sweatpants)
I was hustling.
And I was sick + tired of it.
I needed a new plan.
My ultimate dream was probably pretty similar to most who wish to strike out on their own...
I wanted to make more money while spending less time working.

I wanted more free time to spend with my husband.
I wanted to be less stressed out + actually enjoy my life.
I wanted to go on tropical vacations + not worry about how I'd pay the bills when I returned.
I wanted to stop with all the hustling.
But I couldn't just quit working with clients cold turkey… they were paying my rent.
I needed a way to ease into making more money.
I NEEDED A SIDE HUSTLE (without all of the hustle).
So right then + there I decided that I would create a passive stream of revenue online.

I began making low-cost informational products that I sold directly from my blog.
And, in only 10 hours time, I was able to create 4 digital products that I priced between $10- $29.
Cut to me figuring out to to scale those 4 products to sell less + make even more.
Cut to me perfecting all of my systems, so that I could sell my products day-after-after, completely on autopilot.

Cut to me sending out 2 emails over the course of 3 days + making $2700.

(And I didn't have a massive email list-- in fact, less than 1000 people even opened those emails).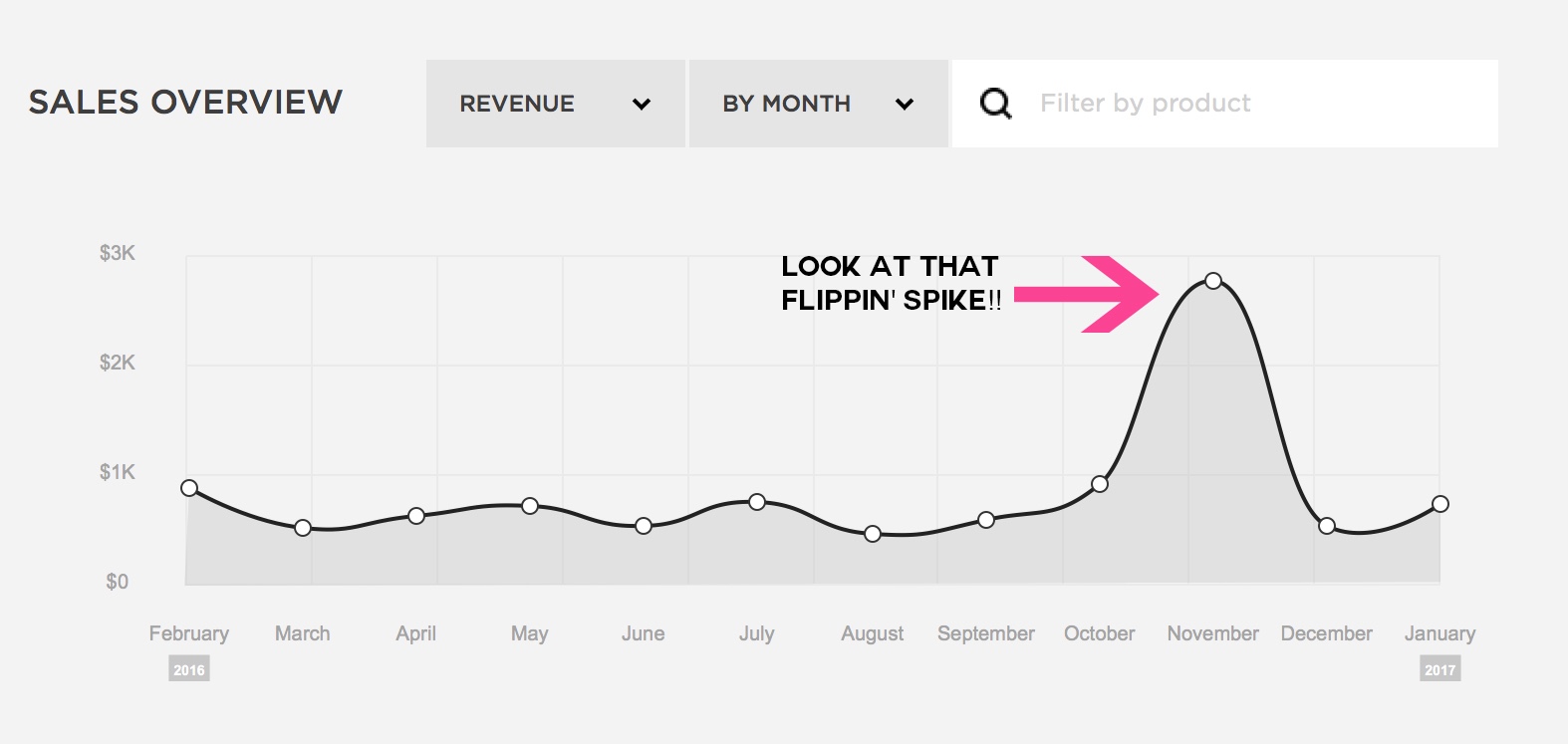 This almost felt like cheating.

Because with only about 15 minutes of work, I'd managed to make more money in 3 days than I could make with a single client for a month.
One year ago, I was just like you.
Tired of the hustle.
Tired of living in fear.
Tired… in general.